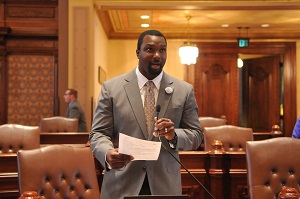 SPRINGFIELD – Legislation passed the Illinois Senate today that would create the Residential and Economic Redlining Task Force Act. State Senator Napoleon Harris (D-Harvey) is the chief Senate sponsor of the measure.
This legislation creates a task force to examine barriers to economic opportunities in economically depressed communities, issues discouraging local investment, community concerns, current economic conditions and establishes comprehensive economic development policy for businesses of all size.
"Task forces like the one this legislation is proposing can be an important first step in creating successful economic development in communities that are facing troubles," Harris said. "I want to see local businesses thrive. I want to see economic development grow to new levels, and see people in our communities have the opportunity to start businesses. The first step in this process is research."
The task force will research the stated areas and will be required to prepare a report summarizing the findings of their examinations. Recommendations will be provided as to whether further legislation is needed to address the problems identified by the task force.
The Legislation, House Bill 3840, passed the Senate today and will be sent to the governor's desk.