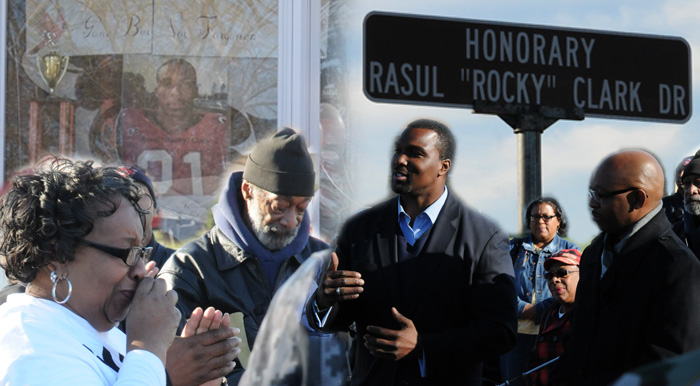 State Senator Napoleon Harris (D-Harvey) joined Annette Clark along with other officials, family and members of the Robbins community to honor the memory of her son with the dedication of the Honorary Rasul "Rocky" Clark Drive on the corner of West Lydia Avenue and South Hendricks Road in Robbins.
"This day means to me that my son's legacy will never die, that his legacy lives on and he's with us. It's just a blessed day," said Clark.
Rocky was a football player at Eisenhower High School in Blue Island when he was paralyzed during a game in 2000.
"If you knew Rocky, you knew one thing about him: He never complained," said Harris. "Rocky showed compassion. He showed a huge amount of strength, determination and perseverance. We can all draw strength from Rocky because I know going through his times one thing remained the same, that beautiful smile."
After his injury, Rocky went on to receive his high school diploma, attend college, coach football at Eisenhower and inspire many.
"Young people have to know that regardless of your situation, your surroundings or your communities, you can be any and everything that you want," Representative William Davis (D-Hazel Crest) said. "He [Rocky] was that example for all of us."
In 2010, the insurance provided to Rocky through the school district ran out, which forced him to rely on Medicaid, support from the state and his mother.
His situation shed light on the need for high schools to provide catastrophic injury insurance to all their athletes. Rocky's Law was signed in 2013 and with its approval, Rocky's legacy was cemented into Illinois history.