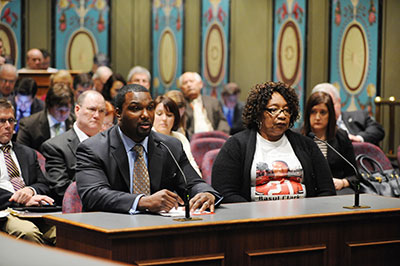 State Senator Napoleon Harris (D-Flossmoor) is sponsoring a measure inspired by student athlete Rocky Clark that protects high school student athletes who get severely injured while playing sports. The legislation would ensure student athletes are covered.
While playing in a football game for Blue Island's Eisenhower High School on Sept. 15, 2000, running back Rasul "Rocky" Clark was paralyzed. Rocky received care for the next 10 years through a catastrophic medical insurance policy that was provided by his school. That coverage stopped in 2010 when Rocky's care exceeded the $5 million cap on the policy. Rocky died on Thursday, January 5, 2012.
"Every year, thousands of children across Illinois play high school sports. The unfortunate reality is that on rare occasion there are student athletes who are permanently disabled," Harris said. "Currently, there is no requirement in Illinois that schools carry any kind of insurance to protect those children."
Rocky's mom, Annette Clark, joined Senator Harris in a Senate committee meeting on Wednesday. Annette traveled to Springfield to tell her story. She spoke about how hard it was to care for Rocky after his insurance ran out, and they even had to mortgage her house and quit her job. Annette is still mourning the death of her son, and hopes no other family has to go through this.
This measure, Senate Bill 2178, passed Senate committee and will soon be heard in the Illinois Senate.
For more on this story, visit the Senate Democrats website: http://www.senatedem.ilga.gov/index.php/caucus-news/feature-story-archive/3228-harris-moves-first-major-bill-to-protect-student-athletes-in-rocky-clarks-memory