Dear Friends,
As we head into the final weeks of this legislative session, we have much to do in a short amount of time. We are facing a very tough challenge as we continue with budget negotiations for 2016. In the coming weeks it will be critical to continue to push forward and work in a bipartisan fashion to address Illinois' most pressing issues.
Nonetheless, I have continued in my efforts to work hard and advocate for a more equitable business climate. Please read on to hear about what I am doing to make this happen.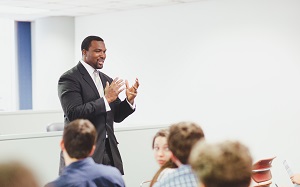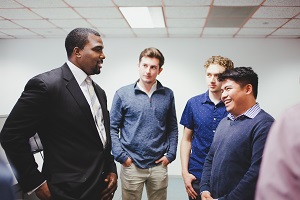 Last week Northwestern University invited me to be part of their NU in Government Day. I had the chance to speak with students about my role as a State Senator and what led me to pursue a career in public service.
As a graduate of Northwestern, I can attest to the great programs and support the university has to offer. My time spent there played an influential role in my decision to pursue public service.
I was honored to be invited to speak with these bright and engaged students. These students have very promising futures ahead of them.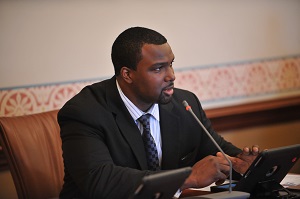 Springfield, IL – Legislation sponsored by Senator Napoleon Harris (D-Harvey) that would raise the state's contract goal for minority and women-owned businesses from 10 percent to 20 percent passed out of committee today.
Senate Bill 275 increases opportunity for minority and women owned businesses to win state construction contracts. It would require building construction contracts in excess of $250,000 be unbundled or subject to separate and independent bidding processes for each of the five required subdivisions of work. For instance, it would separate plumbing from general contract work.
Springfield, IL –Legislation co-sponsored by Senator Napoleon Harris (D-Harvey), which proposes a plan to undo the cuts to social services recently enacted by Gov. Rauner., passed the Senate today.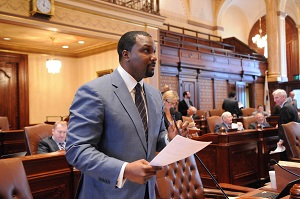 "This legislation is a product of a bipartisan effort to ensure services to the most vulnerable remain funded," Harris said. "This plan uses surplus funds normally reserved for special interests, to restore funding for autism, epilepsy and substance abuse prevention. These cuts affect real people, and we must continue a bipartisan effort to ensure these programs remain funded."
The legislation, Senate Bill 274, now goes to the house for consideration.