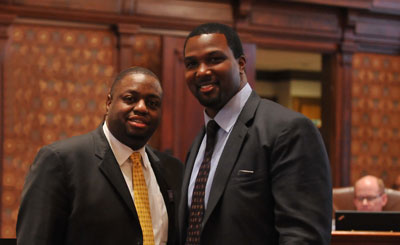 On Monday, Governor Rauner signed an executive order requiring labor unions and companies that do business with the state to report on how many minorities and veterans participate in apprenticeship and training programs.
State Senator Emil Jones III, Chairman of the Senate Black Caucus, had this to say:
"Governor Rauner's executive order to review minority contracting statistics shows his willingness to tackle tough issues facing diverse communities," Senator Jones said. "For years, members of the Black Caucus have created laws aimed at leveling the playing field for minority contractors.
"It looks as if Governor Rauner is willing to listen to our concerns and work toward establishing tangible results."
The Senate Black Caucus has been instrumental in moving legislation forward to increase business opportunities for minority contractors and views this executive order as a step in the right direction.
State Senator Napoleon Harris III (D –Dixmoor) recently hosted a Minority Contractors Business Summit to learn what issues minority businesses face, in hopes of finding legislative answers.
"Members of the minority business community voiced their opinions about challenges they experience when bidding on state work," Senator Harris said. "This legislative session, the Black Caucus and I will work together to pass measures to increase opportunities for minority businesses who contract work from the state."
In the coming weeks, the Senate Black Caucus will host a press conference unveiling their 2015 legislative agenda.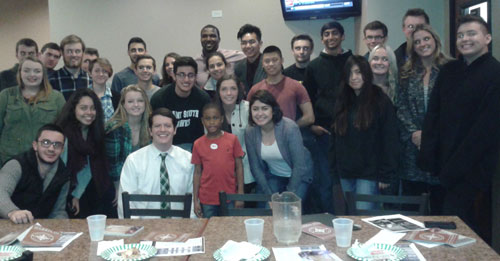 DePaul University Professor Zachary Cook and students in DePaul's 'Explore Chicago' program spent time recently with Senator Harris learning about how legislation is introduced and becomes law and discussing recent legislative issues.
The students were interested in the senator's work on Senate Bill 2178, known as Rocky's Law, a measure to provide catastrophic insurance coverage for school athletes that passed in 2013. Sen. Harris explained what happened to Rocky Clark, whose experience inspired the bill, as well as the process and challenges it took to get it enacted.
The students asked Sen. Harris about concealed carry legislation and any upcoming gun control issues in the General Assembly.
Sen. Harris enjoyed telling the students about his career, how he got involved in public service and about the specific concerns of his district.