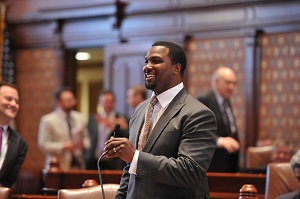 SPRINGFIELD – Legislation sponsored by Senator Napoleon Harris (D-Harvey), allowing certain out-of-state health care professionals to practice medicine in Illinois while on contract to provide care to an athletic team, was signed into law today.

Currently there is no exemption for health care professionals in contract with athletic teams to provide care to athletic team members, coaching staff or families traveling with the athletic team in Illinois without a license to practice in the state.

"This measure would allow for teams to travel with their health care professionals, thereby allowing individuals to receive treatment from someone who is better informed on their medical history," Harris said. "As a former professional athlete myself, I know firsthand the importance of traveling with a qualified physician who knows my medical history. This bill allows skilled health care professionals to provide the medical attention athletes need while they travel in Illinois."

Senate Bill 785 gives exemption to health care professionals for 10 days per sporting event with an option to extend the exemption up to 30 days.

The legislation measure was signed into law today by Governor Bruce Rauner.